Network Video Recorder
Easy Surveillance Deployment in the Office
Flexible surveillance is required with the ever-increasing needs of security management. Infortrend storage systems offer cost-effective solutions with reliable NVR features and intuitive controls to safeguard your workshop, office, or other environments, while providing smart surveillance and video management tools to protect your valuable assets.
Code: 18Q1NVR
Promotion period (01/01/2018 ~ 31/03/2018)

Get a free application for license of 8 cameras when you buy GSe Pro

Get a 50% discount when you purchase any IP camera license
*
Click
here
to see how to apply
*
The default free license of 4 cameras will still be provided after the promotion period
*
For any purchase of GSe Pro made before 01/01/2018, you may apply for the default free licence for 4 IP cameras after upgrading the firmware to ver. FW133C05 or later
Benefits
Default support of 4 IP cameras, up to 32/64 cameras
One storage to satisfy all your work missions including surveillance recordings
All-round surveillance features and easy-to-use management tools
---
Highly Efficient Real-time Videos and Real-time Surveillance
Real-time videos provide an intuitive interface and smart multi-stream technology to let you effectively monitor and control multiple IP cameras. You can monitor anytime, anywhere with just a web browser or desktop client software. Furthermore, it is compatible with platforms such as Windows©.
---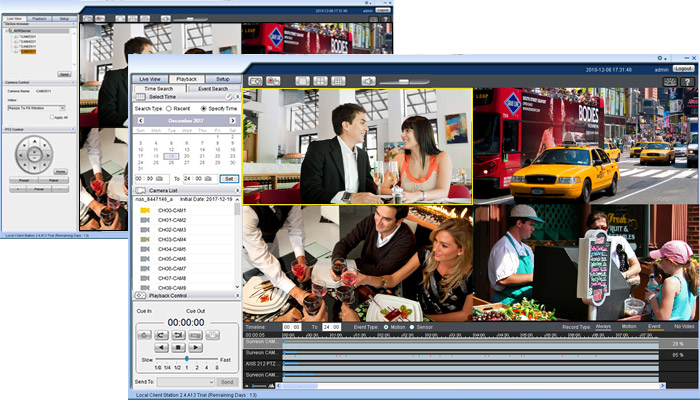 Video Playback & Video Files Management
Multiple recording modes can be configured to meet your needs, while recorded videos from different cameras can be compared to simultaneously. Different time points in the same video, or different videos, can be viewed at the same time to quickly find important video images. You can also use the import / export function or download specific sections of a video file to increase video management efficiency.
---
NVR Supports H.265
40%-50% lower bandwidth budget compared to H.264
50% bit rate reduction compared with H.264 at the same visual quality
Potential to realize UHD, 2K, 4K for Broadcast and Online
---
A Friendly and Intuitive Management Tool for Storage - EonOne
Visualized UI

: Enable to map and show the real-time usage of HDDs on monitor, enjoy the smooth hand-on experience through visualized UI

Easy to Check the System Status & Performance

: Device information, system health check, system performance and hardware RAID status