EonStor GS Family
Scale-out Unified Storage with High Availability for Enterprises
Overview
EonStor GS is an enterprise unified storage solution that integrates SAN, NAS, and cloud services. With scale-out capability, it enables enterprises to flexibly expand performance and capacity.
EonStor GS includes a broad and complete product line to choose from, allowing you to find the most suitable storage device based on your requirements and budgets. On the hardware side, it provides a variety of form factors, a flexible choice of host boards, a modular and reliable design, and high scalability. In terms of software, EonStor GS offers a complete and value-added set of data services and easy-to-use management tools.
EonStor GS comes in three product types based on the supported drives—U.2 NVMe SSD, 3.5" SAS HDD, and 2.5" SAS SSD. Whether you need a solution with extremely high performance or one that meets demanding capacity requirements, EonStor GS has all that covered.
---
Products
U.2 NVMe Hybrid Flash Storage
EonStor GS U.2 series features U.2 NVMe SSD, which delivers ultra high performance with a low latency compared to SAS/SATA SSD. This series includes high performance models and cost-effective ones to support various applications.
High Performance Models
EonStor GS 4000U and GS 3000UT are available in 2U 24-bay and 4U 48-bay models, delivering extremely high IOPS and throughput to handle applications requiring high performance and low latencies.
For Demanding Workloads
Delivering up to 1100K IOPS, 24GB/s read and 12GB/s write in throughput, these models are a perfect fit for applications such as database, HPC, M&E, and VDI.
100GbE RDMA
GS 4000U delivers up to 12GB/s throughput by a single port with the support of 100GbE RDMA, making it a top choice for HPC and 4K/8K post-production.
PCIe Gen 4 Drives
Support the mainstream PCIe Gen 4 SSD drive, which offers twice the bandwidth of PCIe Gen 3, to boost storage performance.
Cost-Effective Models
EonStor GS 3000U and GS 2000U are ideal for enterprises to build a large-capacity solution at a cost-effective price while enjoying the high performance of U.2 NVMe SSD.
For Capacity-Hungry Workloads
Support high-capacity U.2 NVMe SSD and can hold up to 896 drives via JBODs. Together with scale-out expansion, the storage solution can provide 70PB capacity.
Hybrid Storage
Store hot data on SSD and cold data on HDD with auto-tiering to enjoy both high performance and large capacity while minimizing costs.
Data Reduction
Leverage inline compression to compress data in real time and offline deduplication to remove duplicate data that save up to 66% storage space.
---
SAS HDD Storage
EonStor GS 4000 G3 and GS 3000 G3 are equipped with the latest Intel Xeon-D CPU and include a wide range of options, from 2U 12-bay, 3U 16-bay, and 4U 24-bay models to the high-density 4U 40-bay, 4U 60-bay, and 4U 90-bay appliances. You can choose the product that best suits your needs without compromising.
High Write Throughput
Deliver up to 12GB/s write in throughput, which is a 50% increase from previous generation, making the models ideal for high-throughput applications like HPC.
High-Density Design
4U 40/60/90-bay models provide high storage capacity while occupying less space, achieving an efficient space utilization and power consumption.
PB-Level Capacity
With the support of high capacity HDD drives as well as scale-up and scale-out expansions, it is easy to expand the storage capacity to more than 70PB.
EonStor GS 2000 and GS 1000 are entry-level unified storage solutions with enterprise-grade features. You can efficiently manage all kinds of light SAN and NAS workloads at an affordable price.
---
SAS SSD Hybrid Flash Storage
High Performance: The SAS SSD series provides both high IOPS and high throughput, delivering up to 900K IOPS and 11GB/s read and 8GB/s write in throughput to handle various enterprise-critical applications.
High Scalability: By connecting to 2.5" SAS SSD JBODs, EonStor GS can hold more than 800 SSD drives in one single system.
Smart SSD Management: With the built-in intelligent algorithms, EonStor GS prevents multiple SSDs from failing at the same time and extends each SSD's lifespan. In addition, as GS monitors SSD usage in real time, it notifies the administrator before an SSD is about to fail.
---
Features
Scale-out
Best Storage Expansion Solution for Enterprises! EonStor GS supports scale-out expansion, allowing you to easily expand performance and capacity on demand.
In the scale-out architecture, GS can linearly increase performance and capacity for both block-level and file-level environments. When one GS unit is no longer able to provide enough performance or capacity, you can simply add more GS appliances to form a cluster—with a maximum of 4 GS units. GS also supports scale-up expansion with expansion enclosures to add up to 896 drives to increase storage capacity.
---
Powerful but Easy-to-Use
Single namespace for user convenience: The GS scale-out feature integrates multiple GS units into a single file system, where all folders and files can be accessed under a single root directory, making it easy for users to find and use data. For example, files originally stored on different GS units and scattered under different paths (e.g. \\server01, \\server02, \\server03) can be found under the same path (e.g. \\server01) in the scale-out architecture, so that users don't need to worry about where the data is actually stored.
Auto-balancing to reduce the burden of IT storage management: Auto-balancing is an intelligent assistant for data migration. It automatically detects and suggests a location for data migration based on IT-defined folder attributes and migration policies (e.g. certain data has to be stored on SSD), relieving the burden of manual planning and data migration for IT staff.
---
High Storage Efficiency
EonStor GS comes with inline compression and offline deduplication, which reduces the storage capacity required and thus saves storage costs. Furthermore, you can schedule a deduplication process—or stop it when needed—to avoid affecting performance during peak hours and maintain management flexibility.
You can also configure the GS as a hybrid storage architecture based on application requirements, and through automatic storage tiering and SSD caching, it helps you create a high-performance, large-capacity storage system at a lower cost:
Automatic storage tiering (Auto-tiering)

allows you to use U.2 NVMe SSD on the GS and NL-SAS/SATA HDD on expansion enclosures to leverage high performance of SSD and large capacity of HDD.

SSD cache

uses a small number of SSDs on the GS as a cache to accelerate read performance in the SAN storage architecture. It also speeds up read/write performance and file operations in the NAS storage architecture to provide a better user experience.
Hybrid storage to leverage advantages of SSD and HDD
---
New Level of High Availability
EonStor GS offers block-level active-active HA service to deliver continuous services, making it an ideal solution for business-critical applications with an extremely low tolerance for downtime. Organizations can leverage the features of the HA service to easily cope with planned or unplanned events such as outages, system maintenance, and human errors.
Auto-failover and failback ensure non-disruptive operations, achieving a near-zero RTO

(recovery time objective): Monitored by a witness server, the HA service provides an automatic transition in service between two storage devices when one of them fails, as well as when it resumes service. With continuous availability, users will not notice an interruption in service.

Synchronous remote replication ensures no data loss, achieving a zero RPO

(recovery point objective): The HA service constantly replicates identical and complete copies of data from one storage device to the other, so that both are ready to provide service anytime, eliminating the risk of data loss in case of an issue.

Fully utilize storage resources with active-active architecture

: By assigning both storage devices to deliver service simultaneously, you get to optimize your storage resources to a greater extent compared to active-passive clusters.
---
Smart Management for SSD
EonStor GS U.2 NVMe hybrid flash storage and EonStor GS SAS SSD hybrid flash storage have an intelligent algorithm specially designed for SSD. The algorithm not only reduces the total amount of writes on an SSD to prolong its lifespan but also prevents multiple SSDs from failing at the same time and causing data loss. In addition, EonStor GS can estimate the remaining lifespan of each SSD and timely remind the administrator to replace the SSD that is about to fail.
Extend Lifespan
Prevent Simultaneous Failures
Alert Before SSD Fails
---
Complete Data Protection and Backup
With robust data protection features, EonStor GS ensures the safety of your data:
RAID

technology ensures that data remains intact in the event of drive failures.

WORM and immutable object storage

effectively protect data from ransomware encryption.

Local replication

, including volume copy and snapshot at both file and block levels, offers flexibility in data backup and enables efficient rollbacks when required.

Remote replication

enables backup data from a GS appliance to a remote GS appliance or public cloud.
EonStor GS also functions as a backup appliance with its backup server feature, allowing you to easily back up files from PCs, file servers, and public cloud, reducing the costs on third-party backup software, which are typically charged by data volumes or number of sources.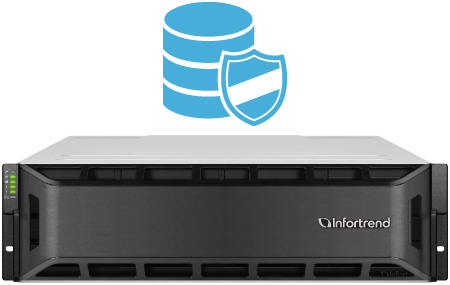 ---
Rich Host Interfaces
As there is a wide range of enterprise applications, the required communication interface for each application may differ. Infortrend provides rich communication interfaces in SAN environments, including 8Gb/s FC, 16Gb/s FC, 32Gb/s FC, 1Gb/s iSCSI, 10Gb/s iSCSI, 40Gb/s iSCSI and 12Gb/s SAS to allow complete compatibility with all applications. Furthermore, 1GbE, 10GbE, 25GbE, 40GbE, and 100GbE ports are also offered in network environments to provide fast and reliable data sharing and data transfer quality.
---
Cloud-Integrated Solution
The integration of enterprise data with cloud is one of the future trends. EonStor GS can help you move files or block-level data to public or private clouds according to your needs. In addition to low-cost access to data that is not frequently used, cloud integration can also be used to back up data to the cloud space to establish a remote backup structure, creating a highly available data center.
---
Intuitive Management Software
EonStor GS adopts EonOne and EonView to assist customers in improving storage and service efficiency for increased productivity.
EonOne is a web-based software tool with an intuitive management interface. It allows IT staff to easily manage a cluster and multiple appliances, monitor performance and capacity usage, and complete system configurations, all from one centralized interface.
EonView is a client-based utility for general users with Windows and macOS platforms. It simplifies storage system settings, such as user accounts and storage quota for easy file sharing.
EonOne Interface
---
Modular Hardware Design
From power supplies, cooling fans, controllers, to host boards, all Infortrend products adopt a modular design to lower maintenance complexity and provide fast, precise technical support and RMA services, so that your storage system is free from any down time to maintain non-stop services and increase productivity and competitiveness.
---
Applications

High Performance Computing
Media and Entertainment
Database
Virtualization
File Sharing
Surveillance

Backup and Archive
Supercharge Your Storage Solutions
Get in touch with our sales team and stay up-to-date with our new products and features!