EonStor GSe Pro 1000
Entry Commercial Storage for SMB
About Infortrend
Product Highlights
Hardware Overview
Feature
Over 25 Years of Enterprise Data Storage Expertise
CIO Review just named Infortrend Technology as one of top 10 most promising storage solution providers in 2018. We are a public listed company in Taiwan since 2002 and offer our own branded storage products in the Enterprise data storage space for over 25 years. Our most outstanding achievement is to successfully deploy more than 600,000 redundant rack-mounted systems world-wide. We offer wide-ranging product lines from entry NAS, SAN storage, unified storage, hybrid cloud, and to all flash storage.
---
Comprehensive Product Offering
Infortrend offers versatile product lines from NAS, SAN, Unified, All Flash, Hybrid Cloud storages and wide-ranging product series that provides entry to high performance. We also provide large selections of form factor choices from desktop 5/8-bay, rack-mount 2U to 4U, 12 to 60 bay.
Entry NAS – EonStor GSe Pro /GSe storage families
SAN Storage – EonStor DS storage family
Unified Storage (SAN + NAS) – EonStor GS storage family
Hybrid Cloud Storage Appliance – EonStor GSc storage family
All Flash Storage – EonStor GSa storage family
AI Storage Appliance – EonStor GSi storage family
---
Industry Price-Performance Leader
Infortrend is an industry price performance leader ranked by Storage Performance Council (SPC). Our EonStor DS 3024B ranked #1 IOPS per dollar in 2015 and EonStor DS 4024B ranked #1 MB per dollar in 2017. Infortrend is also recognized by Gartner Magic Quadrant in General Purpose Disk Array category since 2010.
---
Product Highlights
Triple-Play True Unified Storage Solution (NAS, SAN and Cloud)
GSe Pro 1000 is a true unified storage that support block-level and file-level application access and integrates NAS/SAN/Cloud storage in one system. Excellent performance comes from unique block device design and native iSCSI interface on the firmware level. GSe Pro 1000 offers connection to major cloud service providers such as Microsoft Azure, Amazon S3, OpenStack, and Alibaba for future-proof cloud expansion.
---
Easy Maintenance with Enterprise-Grade Modular & Cable-Less Design
GSe Pro 1000 offers the modular and cable-less design to lower maintenance complexity. You can easily upgrade memory or swap drives with our drawer design. If any module fails, SMB can simply replace with a functional one.
---
Enterprise-Grade Service and Protection
Unlike other consumer NAS with only 1 year warranty, we provide enterprise-grade 3 year warranty, and optional 5 year extended warranty. In addition, our built-in service manager can provide automatic system diagnosis and instant notice to Infortrend's technical support for immediate assistance.
---
Robust Drive Handling and Data Protection
Infortrend's unique drive handling capability offers linear scale-up performance with increasing number of drives. GSe Pro features our Intelligent Drive Recovery (IDR) technology that inspect and recover drive data to prevent time-consuming rebuild process.
---
EonOne - Centralized Management of Multiple Systems
Our management software-EonOne offers centralized interface that can monitor performance, capacity, system status, and manage of multiple systems
Provides a single control panel for file, block, and object service management and resource monitoring
Provides an initial setup wizard and workflow, allowing users to quickly and easily complete all storage related setup
Complete notifications for system monitoring, as well as support for storage resource management for users to grasp performance and capacity conditions
LDAP Server function is embedded into GSe Pro 1000 so you do not need to construct additional LDAP servers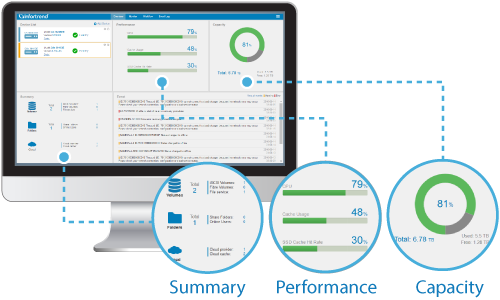 ---
Hardware Overview
Maximum 32GB Memory Size
Accelerates overall performance with write back mode
Supports up to 800GB SSD cache pool to boost read performance
---
Hybrid Storage Arrays
From data growth, management of numerous hardware devices, to annual budget cuts, IT personnel need to face ever-changing challenges every day. The GSe Pro 1000 can be set up as a hybrid flash storage according to their needs, and combined with either SSD Cache or Automated Storage Tiering, it can utilize the high performance of SSDs and the large capacity of HDDs, while automatically moving frequently accessed data to SSDs to achieve simplified management and proper use of resources.
---
Feature
High and Stable Performance SAN with Infortrend's Unique Technology and Architecture
Data is directly written to Infortrend's block level storage, enabling better performance than competitor products that need to write first to the file level and then to the block level, resulting in too much overhead.
---
NAS Complete with Performance and Data Protection Based on XFS File System
XFS File System takes both performance and data integrity into consideration. The infrastructure of Infortrend RAID Technology can further enhance performance and data protection.
---
Public and Private Cloud Integration for Cloud Backup and Flexible Capacity Usage Through Infortrend Proprietary Technology
GSe Pro 1000 can integrate with public cloud and private cloud, and data can be optimally allocated between GSe Pro 1000 and cloud through smart algorithms to deliver the best performance and optimum space allocation.
---
Local File Sharing and Cross-office Collaboration
Data mirroring automatically synchronizes data between GSe Pro 1000 systems and cloud on a real-time basis. Therefore, it offers a perfect solution to file sharing and collaboration between headquarter and ROBO across different geographical locations. The major benefit is that it leverages cloud storage as a centralized database which stores and keeps project emails and shared documents up to date; thus no time is wasted when searching for what you need.
---
Cloud-Integrated Benefit
Infortrend's self-developed cloud gateway engine integrates GSe Pro 1000 with public cloud and private cloud. Businesses can enjoy three cloud features that extend local storage with cloud capacity or make use of off-site backup and disaster recovery.
Automatic cloud backup for simplified data management and maintenance
Integration with leading cloud service providers for more diverse storage choices
Three Cloud Options for flexible cloud applications
---
Cloud Backup Management
the EonStor GSe Pro 1000 cloud gateway engine automatically distinguishes hot data and cold data and backs up cold data to cloud
EonStor GSe Pro 1000 can integrate with leading cloud services. One system can work with multiple service providers
EonStor GSe Pro 1000 provides 3 cloud features : Cloud Cache, Cloud Backup and Cloud Tiering
---
Highly Efficient Real-time Videos and Real-time Surveillance
Real-time videos provide an intuitive interface and smart multi-stream technology to let you effectively monitor and control multiple IP cameras. You can monitor anytime, anywhere with just a web browser or desktop client software. Furthermore, it is compatible with platforms such as Windows©.
---
Organizations can Choose a Suitable Cloud Solution Based on The Level of Data Protection, Cloud Storage Capacity and Cost Considerations
Cloud Tiering
Cloud Cache
Cloud Backup
If GSe Pro 1000 Fails
Partial data saved on Cloud
All data saved on Cloud
All data saved on Cloud
If Internet Fails
Data access : inaccessible
Data access : hot data in GSe Pro 1000
Data access : all data in GSe Pro 1000
Data Access Performance
Hot data : fast
Cold data : slow
Hot data : fast
Cold data : slow
All data : fast
Cloud Data Recovery
Recovery : Snapshot to Cloud
Recovery : latest backup copy on Cloud
Recovery : Any chosen time
---
Data Service with Boosted Performance
Maximum 800GB SSD Cache Pool
Enhance performance
Response time reduced
Suitable for random read-intensive applications, such as online transaction processing (OLTP), Microsoft Exchange, etc.
Automated Storage Tiering
Industry-leading 4-level tiering solution
High flexibility in performance, space and cost
Thin Provisioning
Increases storage utilization and simplifies capacity planning and management tasks
"Just-in-time" capacity allocations add disk space as needed and delay storage purchases to leverage disk drive price declines
---
The Most Comprehensive Data Protection and Data Security
Remote Replication
Data can be backed up remotely so when damage occurs to local data, data can be restored from off-site data backup
GSe Pro 1000 supports synchronized backup and scheduled backup for complete data protection
Snapshot
Data can be restored based on multiple point-in-time images of the user's choice.
SED & Folder Encryption
Data in the hard disks is encrypted so even if the disks are taken away, the data inside is protected. The folders are also encrypted using AES 256-bit to ensure security of enterprise data.