EonStor GSi Family
透過人工智慧和機器學習贏得競爭優勢
Product Highlights
Use Case
EonStor GSi storage family is an AI storage appliance designed for enterprises that demand integrated system and combines compute (GPU and CPU), storage (SAN and NAS), network and cloud in an all-in-one box. Essentially, GSi is the GS storage with integrated GPUs and Docker platform with GUI that can easily implement machine learning (ML) and deep learning (DL) applications. It also supports popular frameworks such as TensorFlow, Caffe and more.
Deploy AI with GSi
GSi has two series: GSi 3000 and GSi 5000.
GSi 3000 is a cost-effective inference solution best suited for AI-enhanced IoT and edge computing. GSi 5000 is a high performance solution fitting for ML/DL model training.
Implement AI Solution the Easier Way
GSi incorporates Compute (GPU and CPU), storage (SAN and NAS), network, and Cloud in an all-in-one box. With a built-in AI environment called Docker, enterprise can get into AI right away, easy implementation without complicated hardware and software setups.

Support Major AI Frameworks
GSi supports popular frameworks such Caffe, Caffe2, CNTK, MXNet, TensorFlow, and Theano, allowing organizations to implement ML/DL applications such as facial recognition, intelligent video analytics, financial modeling, medical analysis, and others.
Manage AI Applications with User Friendly GUI
GSi comes with EonOne, the central management software, as well as GUI-based Docker interface to easily develop and deploy applications. Furthermore, EonOne can manage multiple systems, monitoring GPU and capacity usage, and complete of all system-related configurations.
GSi's Inherited Features from GS
Powerful NAS, SAN, and Cloud Storage Capability
GSi inherited GS line's superior storage capability and supports file-level, block-level, and cloud applications with PB-level capacity, high throughput, and data protection features. With this capability, all training dataset are saved, processed, and retrieved within the appliance for maximum performance. GS-inherited key benefits for GSi are:
PB-level Capacity
GSi supports 316/436 drives expand so no extra external storage is required
High Throughput
GSi can handle large amounts training data
Data Protection
GSi supports IDR (Intelligent Drive Recovery) and SED (Self-encrypting drives) to ensure that all training data and training models are well-preserved
Connect to the Cloud with EonCloud Gateway
GSi supports major cloud services such as Amazon S3, Microsoft Azure, Openstack Swift, and Alibaba Cloud with EonCloud Gateway and can optimize data storage resources between edge and cloud. It also provides cloud backup, cloud cache and cloud tiering functions. For example, you can set all training dataset to have a backup copy in the cloud when unexpected happens.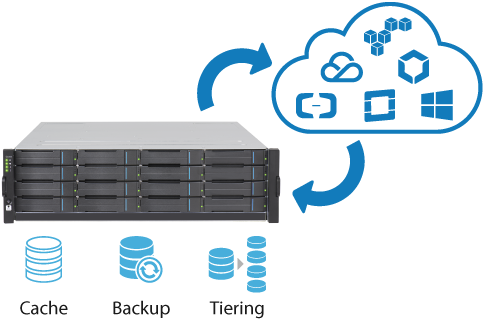 GSi Use Case
Smart City
AI helps solve, or at least, ease some problems in city's topography such as finding parking spaces, recording surveillance videos of the city's every nook and cranny, notifying vehicular accidents, and others. For smart city application, the capacity and the IO throughput is important to accomplish such tasks. EonStor GSi 3016 can generally support 800 video streams simultaneously. And with NVIDIA Tesla P4 GPU installed, its DeepStream SDK helps process 25 video streams in high resolution quality. With regards to storage capacity, GSi 3016 can support of up to 316 hard drives with an overall space of 2.3+ PB (10 TB, RAID 5).
For a smart city idea to become a reality, a lot of elements must come together. GSi 3016's EonCloud Gateway synchronizes the data to the same cloud provider for model training and deploys the inference back to the GSi system as the production device. You can easily control your data from edge to cloud and back.
Configuration
Platform

: GSi 3016 with one NVIDIA Tesla GPU P4

Stream Support

: 800+ (h.264-encoded)

Storage Capacity

: 4.8+ years (25 video streams recording)
Healthcare
In healthcare industry, AI application provides faster results in data analysis and diagnostic concerns. It helps identify the genetic information of someone with a particular medical condition. In addition, patients who don't have easy access to their healthcare providers can send their medical conditions via photographs taken by their camera phones and let the providers analyze the images with AI image analysis, a type of telemedicine. This system is faster and more effective for the providers to give near accurate diagnosis to their patients. Because of high and powerful demand in medical data process and access, GSi 5016 provides large capacity and optimum performance. It also supports multiple GPUs, maximum sequential read 5.4GB write 4.2GB throughput, and 436 hard drive accommodation that can bring about a maximum of 3.2+ PB (10 TB, RAID5).
Configuration
Training platform

: GSi 5016 with two GPUs

Process time

: 150 CT images/second at 512 * 512 unit16 resolution without compression (base on ResNet-50 benchmark)

Storage capacity

: 6.4 billion CT images (512 * 512 unit16 resolution)