View it in your browser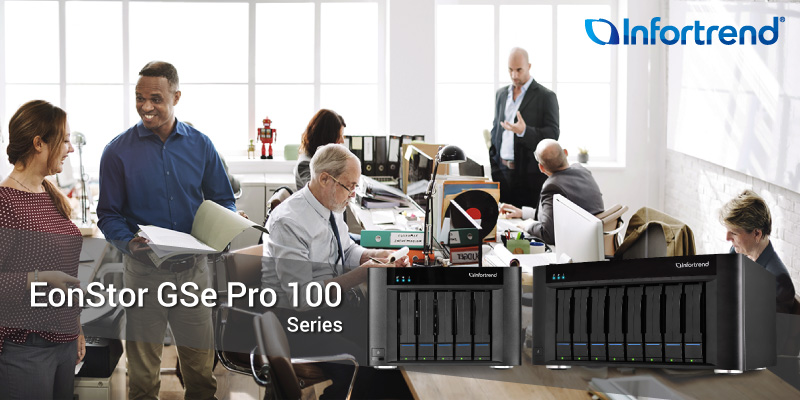 The Ideal Entry-level Commercial Desktop Storage
for SMBs
EonStor GSe Pro 100 Series is an all-in-one NAS, SAN, and Cloud storage system, that supports block-level and file-level application access and it comes with rich host interfaces - FC 16Gb/s, FC 8Gb/s, iSCSI 10Gb/s, and iSCSI 1Gb/s – to ensure seamless compatibility with your IT infrastructure and applications. SMBs can easily share file in a high speed connection via common protocol such as NFS, CIFS, AFP, FTP, iSCSI and Fibre.
In addition GSe Pro 100 supports up to 40 drives and a capacity 500TB and more with four expansion enclosures, ideal for storage-intensive applications such as video surveillance, data archiving, and more. The optional EonCloud Gateway allow you to connect to major cloud storage services for future-proof capacity expansion and remote backup.
Feature Highlights
All-in-One Unified Storage
NAS, SAN, and Cloud integrated in one storage system
Cross Platform File Sharing
Supports multiple file access protocols including CIFS, SMB, NFS, AFP, and FTP
High Expandable Capacity
Supports up to whopping 40 disk drives and up to 500TB of raw storage capacity
Versatile Host Interfaces
10GbE for high speed data transmission, FC 8G/16G for block-level data service and SAS 12G for capacity expansion
Outstanding Performance
File-level 700MB/s read, 350MB/s write, block-level 1200MB/s read, 600MB/s write and 66K read, 21K write IOPS
Performance
Block Level Performance
10Gb iSCSI
(RAID 5)
4K Random IOPS
Read
66K
Write
21K
1M Sequential Throughput (MB/s)
Read
1,200
Write
600
File Level Performance
10Gb Ethernet
(RAID 5)
CIFS
1M Sequential Throughput (MB/s)
Read
700
Write
350
NFS
1M Sequential Throughput (MB/s)
Read
500
Write
300
Hardware Specification
Series
GSe Pro 100
Image
Model
GSe Pro 105
GSe Pro 108
Form Factors
5-bay Desktop
8-bay Desktop
CPU
Intel Atom 2.4GHz
Cache Memory
DDR3 4GB (non-ECC) Expandable to 8/ 16GB
USB Ports
2x USB 2.0, 2x USB 3.0
Onboard Ethernet Ports
4x 1GbE/ iSCSI ports (RJ-45)
Host Board

4x 1Gb/s iSCSI ports
2x 10Gb/s iSCSI ports (RJ-45)
Converged host board:
4x 8Gb/s FC ports
2x 16Gb/s FC ports
4x 10Gb/s iSCSI ports (SFP+)

Maximum
Number of Drives
37
40
Max. Raw Capacity
(14TB)
518TB
560TB
Drives Support
SATA SSD (2.5"), SATA HDD (3.5")
Order
Why Infortrend EonStor GSe Pro 100 series?
| | |
| --- | --- |
| • | CIO Review : TOP 10 most promising storage solution providers in 2018. |
| • | Proprietary RAID technologies : EonStor GSe Pro 100 series delivers high and sustainable performance in a variety of environments. |
| • | Over 25 years' of experience in storage industry : We have successfully deployed more than 600,000 redundant rack-mounted systems worldwide. Our new GSe Pro 100 series shares the same quality and advantages that our high-end systems. |