Success Stories
ALOG Technology adopted Infortrend Storage and successfully responded to China's biggest shopping carnival
Organization
ALOG Technology Co., Ltd.
Challenge
Headquarters and regional warehouse data management adopt a large database. As multiple subsystems need to instantly connect with database, back-end storage systems need to realize powerful IOPS handling capabilities.
System must guarantee transaction safety and no data loss.
IT services must provide non-stop 24/7 service to ensure storage and logistics quality.
Cost-effective remote disaster recovery solution.
With the increasing numbers of new features and warehouse management subsystems ongoing online, back-end storage systems must meet the needs of future data growth and performance expansion.
Solutions
Infortrend EonStor DS 3016R with FC host channels and hybrid storage (SSD+HDD) built a private cloud service platform to be operated at ALOG headquarters and its dozens of regional warehouses:
Using 8 SAS SSDs, 8 SAS HDDs Over one million IOPS (all cache hit), with 450K IOPS and 6,500 MB/s throughput in testing environments.
All hardware adopt high availability redundant controllers and a modular design to support 24/7 non-stop operations.
Every DS 3016 supports up to 16 drives, and can support up to 436 drives with expansion enclosures to meet future data growth when new systems go online
Complete data protection mechanism to ensure data security.
Supports advanced remote replication features, can easily build a cost-efficient remote disaster recovery solution.
ALOG Technology adopted Infortrend Storage and successfully responded to China's biggest shopping carnival
"By adopting Infortrend's storage products to build an intelligent logistics warehouse platform, we provide high quality core warehouse management services for Alibaba's Tmall Supermarket." – Xiong-Hui Ye, Operation Manager of Information Department, ALOG Technology Co., Ltd.
Challenges
On "618 (6/18)", "Double 11 (11/11)", and "Double 12 (12/12)" of each year, major e-commerce companies in China will have great promotional activities with billions of sales in a single day. These huge transaction volumes not only challenged payment systems of various banks, but also severely tested the limits of logistics warehouse systems. As the core supplier of warehouse management services for Tmall Supermarket under China's Alibaba Group, ALOG Technology must increase their scale of operations and efficiency of their warehouse management systems.
After a few rounds of vendor selections, ALOG Technology chose Infortrend and adopted multiple EonStor DS 3016R subsystems to host their most critical databases in both national data centers and regional warehouses spread across 10 provinces including Tianjin, Shanghai, Guangzhou, Shandong, etc., and successfully responding to thiese big shopping events in China for three consecutive years since 2015.
Solution: EonStor DS 3016R
ALOG finally decided to adopt EonStor DS 3016R as its core storage platform for warehouses. Front-end adopts multiple servers to build a private cloud for open Infrastructure as a service (Iaas) to run database services, while also supporting self-built supply chain systems such as Warehouse Management System (WMS), Order Management System (OMS), Transportation Management System (TMS), Warehouse Control System (WCS), and flexible support for future business subsystems. With 8Gb FC and switches, data is stored in the DS 3016R, while hybrid SSD and HDD drives ensure ample performance and capacity to realize centralized management for data, assisting ALOG to successfully handle the extremely challenging Global Shopping Festival for three consecutive years. A detailed storage network topology structure is shown below: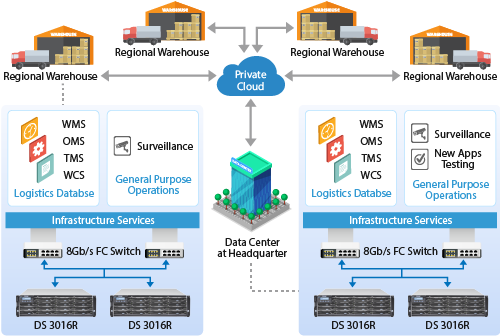 Why Choose DS 3016R
1. Leading Price-performance
Under budget constraints, the DS 3000 series can provide an IOPS of over one million (all cache hit), 450K IOPS, and 6,500 MB/s throughput in actual testing environments. With superior performance shown during database application testing, the DS 3000 series can still maintain a high performance and low latency even during peak access hours. Its excellent performance can easily meet the database service needs on ALOG's self-built private cloud platform.
2. High availability with a no-single-point-of-failure design
All critical components in the system (controllers, power supply, fans) feature a redundant design. Dual redundant controllers and automatic failover / recovery provide non-stop front-end services and support non-stop firmware upgrades to maintain 7/24 database operations.
3. All-round data protection
For hardware design, cache data is mirrored between EonStor DS controllers to ensure data safety even when power outages occur. Software design supports advanced remote replication features to run data backup between EonStor DS systems to build a cost-effective remote disaster recovery structure. Furthermore, intelligent drive recovery (IDR) can automatically recover bad sectors and extend disk life, so as to prevent RAID rebuild due to disk failures and affect database access experience.
4. Massive storage expandability
Products should come with ample expandability to meet the needs of future data growth. DS 3016 features high expandability with support of up to 436 disks (roughly 4 PB of storage space).
About ALOG Technology Co., Ltd.
Founded in 2004, ALOG Technology Co., Ltd. is a global leading e-commerce logistic solution provider, and the core supplier of warehouse management services for Tmall Supermarket under China's Alibaba Group. For more details, please visit: www.alog.com