EonOne for GS
Easier Central Management for Your Storage Systems
EonOne for GS: Your All-in-one Storage Management Tool
Infortrend offers EonOne for GS, a new generation storage management tool that complements well with EonStor GS/GSa/GSc/GSe/GSi, and GSe Pro. Designed with an intuitive and user-friendly interface, EonOne for GS guides you to all storage-related setup procedures and configurations via a smart setup wizard and a streamlined workflow. To help you stay on top of storage conditions, EonOne for GS also provides a complete range of features for a centralized management of multiple systems including Storage Resource Management (SRM), system monitoring, access authorization, and event notifications.
Accessible Browser-based Centralized Management
This management tool is browser-based and serves multiple platforms to support many mainstream operating systems. It features SSL (Secure Sockets Layer) link protection and role-based access levels to manage different installation sites and other relevant purposes.
User-friendly Graphical Interface
EonOne management tools feature a user-friendly GUI that provide a clearer view of storage system information and important features. The information is grouped in easy-to-understand graphics and tables. You can access the configuration and management functions with a few simple clicks of the mouse.
Easy Access to Information from All Storage Systems
EonOne management tools provide easy access to information from your storage system, including:
Overall system operating status
Status of all hardware components such as firmware version, host board types, and recent events
Overall performance monitoring, including CPU and memory use, current read/write performance (throughput and IOPS), etc.
System storage used and available capacity
Tasks processed by the system, including system setup and settings, system view, license information, event log, and system maintenance
Categorized device/partition status monitoring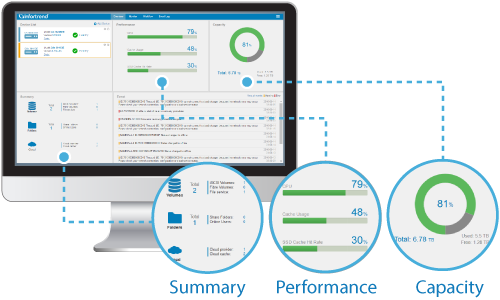 Service Manager: The Intuitive System Problem Informer
Got any system-related requests or need help with system issues with your Infortrend systems? Let Service Manager do the stuff for you. Service Manager is a service request tool that allows you to collect system logs and configuration information and helps you keep track of service request status.
Be Updated of All Important System Events with Automatic Notifications
EonOne for GS has notification manager, a feature that allows you to get notifications of important system events, such as system news and updates and lets you select when you can get notifications. Notifications are transmitted to IT managers via a variety of methods like Email, LAN broadcast, and SNMP traps. You can select more than one method to notify you of such system events.
Every data center is different. A system event that is critical for one data center might be less important for another. With EonOne for GS, you can select event severity levels for receiving notifications. This ensures that you can only be alerted of system events that are essential to you and your enterprise.