EonStor GSe Pro Family
Enterprise-Class Features in the Most Affordable NAS
EonStor GSe Pro is a single controller solution with support for SATA and SSD drives exclusively designed for SMBs, integrating SAN and NAS services as well as Cloud Gateway features to be deployed under a general NAS architecture for file sharing, backup, cloud synchronization, video editing, and surveillance purposes. Its complete product line features a hardware design of rackmount or desktop enclosures and flexible host boards to choose from; as for software, it comes with complete data services and simple, intuitive management interfaces, so that you can find the perfect storage device according to your performance or budget needs.
Rack-mounted Solution
The rackmount EonStor GSe Pro 3000 / 1000 are entry level enterprise NAS solutions designed for SMBs and ROBOs. It provides complete data storage, file sharing, and cloud integration, with reliable performance to meet the various needs of light applications at an affordable price. The EonStor GSe Pro 3000 comes with an expandability of up to 4PB storage capacity to assist enterprises meet the needs of future data growth, while providing up to two sets of modular host board slots for various applications or architecture transformation to offer more deployment flexibility. The GSe Pro 3000 is perfect for the performance- and expansion-conscious, while the GSe Pro 1000 is ideal for the budget-conscious, as it can complete all basic IT application deployment within a limited budget.
Desktop Solution
The desktop EonStor GSe Pro 200 is an entry level enterprise NAS solution especially designed for SMBs, ROBOs, and video editing studios. It provides complete data storage, file sharing, and cloud integration, allowing IT personnel to efficiently manage all kinds of light workloads, all at an affordable price. It supports file sharing between various operating systems (such as Windows, Linux, and iOS), while also offering an optional Thunderbolt solution. The EonStor GSe Pro 200 comes with exceptional expandability of more than 320TB storage capacity, which can easily meet the needs of future data growth. Two sets of 10GbE and 1GbE network interfaces are also included by default, with support for two sets of modular host board slots to meet the requirements of numerous IT architectures.
Highly Efficient Real-time Videos and Real-time Surveillance
Real-time videos provide an intuitive interface and smart multi-stream technology to let you effectively monitor and control multiple IP cameras. You can monitor anytime, anywhere with just a web browser or desktop client software. Furthermore, it is compatible with platforms such as Windows©.
Local File Sharing and Cross-office Collaboration
Data mirroring automatically synchronizes data between EonStor GSe Pro systems and cloud on a real-time basis. Therefore, it offers a perfect solution to file sharing and collaboration between headquarter and ROBO across different geographical locations. The major benefit is that it leverages cloud storage as a centralized database which stores and keeps project emails and shared documents up to date; thus no time is wasted when searching for what you need.

Thunderbolt Supported Storage for 4K Media Streams
GSe Pro 200 series delivers sufficient capacity and outstanding performance for accelerating and improving content creation process. By employing GSe Pro 200 series, it makes even the most demanding creative projects easy. With Sonnet Twin 10G SFP+ Thunderbolt 2 adapter qualified by Infortrend, expanding capacity for Mac devices is fast and easy.
Desktop and Rack-mount Type
GSe Pro family offers desktop (GSe Pro 200) and rackmount (GSe Pro 1000/3000) to meet the environmental needs of enterprises of all sizes. We recommend the GSe Pro 200 NAS storage system for general rooms such as workshops and offices, as its whisper-quiet running sound is less than 30dB, therefore raising work efficiency. GSe Pro 1000/3000 NAS series are compatible with various rackmount specifications, and as such are ideal for companies with dedicated data centers for servers, switches, and storage products deployment.
SAN, NAS and Cloud in ONE Unified Storage
With the growth of data, more and more enterprises face the need to transform their storage infrastructure. Besides providing TB or PB level local storage capacity for critical applications, the EonStor GSe Pro can also assist users to expand their data storage to cloud by adjusting system setups according to actual requirements, all in one storage system.
Hybrid Storage Arrays
From data growth, management of numerous hardware devices, to annual budget cuts, IT personnel need to face ever-changing challenges every day. The EonStor GSe Pro can be set up as a hybrid flash storage according to their needs, and combined with either SSD Cache or Automated Storage Tiering, it can utilize the high performance of SSDs and the large capacity of HDDs, while automatically moving frequently accessed data to SSDs to achieve simplified management and proper use of resources.

Complete Cloud Integration Solution
Integration of enterprise data and cloud is the trend of the future, and the EonStor GSe Pro can assist customers to move file or block level data to public or private clouds according to their needs. Besides low cost access to infrequently used data, it can also backup data to the cloud to establish a remote backup architecture, creating a data center with high availability.
EonOne - an Easy-to-use Interface for Storage Management
With the constant evolution of storage platforms, the EonStor GSe Pro adopted the all new EonOne management software to assist customers improve storage and service efficiency to increase productivity. Its intuitive interface design allows for centralized management of multiple systems, monitoring of performance and capacity usage, and completion of all related system configurations.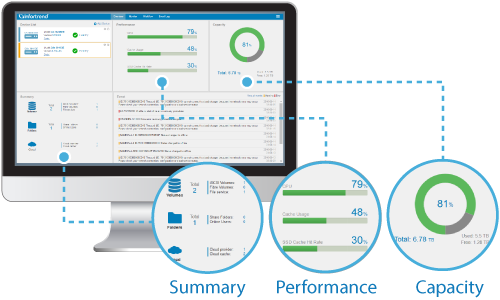 Modular Design
From power supplies, fans, controller, to host boards, all Infortrend products adopt modular designs to lower maintenance complexity and provide fast, precise technical support and RMA services.
*
Rack-mounted solution only.