EonStor GS Family
Scale-out Unified Storage with High Availability for Enterprises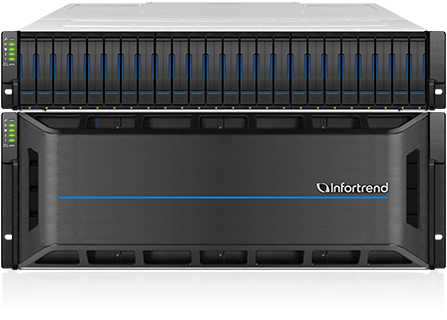 EonStor GS is an enterprise unified storage system that integrates SAN, NAS, and cloud services. With the newly supported scale-out feature, it enables enterprises to flexibly expand performance and capacity.
EonStor GS is represented with a broad and complete product line allowing you to choose the most suitable storage device according to your requirements and budget. On the hardware side, it provides a variety of form factors and a flexible choice of host boards, as well as stable and reliable design and high scalability. In terms of software, EonStor GS offers the complete and value-added set of data services and easy-to-use management interface.
EonStor GS is suitable for common enterprise-level applications: for example, database, virtualized environment, audio and video editing, file sharing, backup, surveillance, and cloud data integration.
---
U.2 NVMe All-Flash High Performance Solution
EonStor GS 2000U/3000U/4000U is a high-efficiency storage solution specially designed for enterprises. Each appliance can be installed with 24 U.2 SSDs, delivering higher IOPS and throughput more cost-effectively.
New model: GS 4000U/3000U supports 100GbE ports to significantly increase the transmission speed with lower latency, which makes it suitable for performance demanding and latency-sensitive applications, such as database, virtualization, multimedia editing and rendering, and high-performance computing applications.
Powerful Performance Meets Large Enterprise Workload
GS 3000/4000 makes the customers enjoy the better transmission with exceptional SAN and NAS performance. These series can handle large amounts of I/O and file transfers under high workload.
Non-Stop Solution that Satisfies SMBs Demands
GS 1000/2000 provides an entry-level solution for those who newly adopt a unified storage platform, allowing to efficiently manage all kinds of light SAN and NAS workloads at an affordable price.
Product Highlights
Excellent Performance for All Storage Applications
The EonStor GS series delivers both high IOPS and high throughput and supports high-speed transmission interfaces and protocols, such as 32Gb/s FC and 40Gb/s iSCSI. With the support of 100GbE ports and PCIe Gen4, GS U.2 NVMe series delivers up to 24GB/s read and 12GB/s write in throughput and 1100K IOPS to handle various enterprise-critical applications.
Introducing Scale-out: Fully Leverage Performance and Capacity of Multiple GS
Best for Expanding Storages for Enterprises! EonStor GS now supports scale-out feature, you can easily expand performance and capacity to more than 40PB of storage space.
In the scale-out architecture, GS can linearly increase performance and capacity for both block-level and file-level. When one GS is not able to provide enough performance or capacity, you can simply add another GS appliance to the cluster – with a maximum of 4 GS units.
In the scale-up architecture, each GS supports expansion enclosures to add up to 896 hard drives for expanding storage capacity.
Powerful but Easy-to-Use
Single Namespace for user convenience: The GS scale-out function integrates multiple GSs into a single file system, so that all GS folders and files are located in a single root directory, which makes users' file access convenient and simple. For example, data originally scattered in various paths (such as \\server01, \\server02, \\server03) can be stored in the same path (e.g., all data stored in \\server01), so users don't need to worry about where the data is placed.
Auto-Balancing to reduce the burden of IT storage management: The Auto-Balancing function is an intelligent assistant for data migration. It automatically detects and suggests location for data migration based on IT-defined folder attributes and migration policies (e.g., certain data has to be stored in SSD), eliminating the burden of IT manual planning and data migration.
Drive Storage Efficiency: Get the Most from Your Budget
EonStor GS comes with inline compression and offline deduplication for Btrfs, which reduces the storage capacity required and thus saves storage costs. Furthermore, you can schedule a deduplication process—or stop it when needed—to avoid affecting performance during peak hours and maintain management flexibility.
Enterprises can leverage tier configuration, where you mix the high-performance, dual-controller GS with the cost-effective, single-controller GSe to form a cluster. For example, the GS in the cluster can be used for high-performance online data access, while the GSe is connected to high-density, 60-bay JBODs to provide large capacity for offline backup.
You can also configure the GS as a hybrid storage architecture based on application requirements, and through automatic storage tiering and SSD caching, it helps you create a high-performance, large-capacity storage system at a lower cost:
Automatic storage tiering (Auto-tiering)

allows you to use U.2 NVMe SSD on the GS and NL-SAS/SATA HDD on expansion enclosures to leverage high performance of SSD and large capacity of HDD.

SSD cache

uses a small number of SSDs on the GS as a cache to accelerate read performance in the SAN storage architecture. It also speeds up read/write performance and file operations in the NAS storage architecture to provide a better user experience.
Hybrid storage to leverage advantages of SSD and HDD
Intelligent Management for SSD Optimization
EonStor GS is equipped with intelligent drive management technology, which can significantly reduce the burden of IT management.
The new RAID mode prevents data loss caused by simultaneous damage of multiple SSD

: If SSDs reach the write limit at the same time and, thus, fail at the same time, enterprises irrevocably lose their valuable data. To avoid this, Infortrend provides a new RAID mode that ensures that SSDs have different write times and won't fail simultaneously.

Optimized technology to extend SSD service life

: Due to the limited available number of SSD writes, the system provides intelligent algorithms to optimize the operating characteristics of the SSD, such as reducing repeated data writes, so that the storage space of the SSD can be used optimally and the SSD lifespan can be extended.

Intelligent monitoring for simplified SSD management

: Real-time monitoring of SSD usage and predicting the remaining lifetime. When the estimated remaining time of the SSD usage is less than few months (6/3/2/1), the system sends a notification so that users could have enough time to replace the SSD that is about to fail.
Complete Data Protection: Reduce the Risk of Data Loss
Data loss is a disaster for every enterprise. EonStor GS provides various data protection solutions for enterprise data. First, drives are protected by RAID to ensure that data remains intact when a drive failure occurs. In the backup aspect, GS supports snapshot and volume copy for local and remote backup solutions. To offer enterprises a top backup option, GS supports folder snapshot, which delivers high backup efficiency with a minimal capacity requirement.
EonStor GS also incorporates crucial security mechanisms to protect your data against ever-increasing cyber attacks. One of them is immutable object storage, a feature that safeguards data against ransomware attacks. It retains data with WORM (write once read many) storage protection, where data gets "locked" and therefore cannot be modified, deleted, overwritten, or even encrypted by ransomware. By setting data retention periods, organizations can easily comply with recordkeeping regulations, which is typically required in finance and healthcare industries, as well as government agencies. To provide an extra layer of security for administrative account access, multi-factor authentication (MFA) is also supported to reduce the risk of malicious attacks following password theft.
Local and remote backup solutions
Rich Host Interfaces for Various Workloads
As there is a wide range of enterprise applications, the required communication interface for each application may differ. Infortrend provides rich communication interfaces in SAN environments, including 8Gb/s FC, 16Gb/s FC, 32Gb/s FC, 1Gb/s iSCSI, 10Gb/s iSCSI, 40Gb/s iSCSI and 12Gb/s SAS to allow complete compatibility with all applications. Furthermore, 1GbE, 10GbE, 25GbE, 40GbE, and 100GbE ports are also offered in network environments to provide fast and reliable data sharing and data transfer quality.
Cloud Integrated Solution
The integration of enterprise data and cloud is one of the future trends, and EonStor GS can help you move files or block-level data to public or private clouds according to your needs. In addition to low-cost access to data that is not frequently used, it can also be used Back up data in the cloud space to establish a remote backup structure to create a highly available data center.
Multiple Form Factors to Choose From
Infortrend provides multiple specifications for storage systems and expansion enclosures such as 2U 12-bay, 2U 24-bay, 2U 25-bay, 3U 16-bay, 4U 24-bay, 4U 60-bay, etc. even in the same series, so that enterprises can choose what's perfect for them according to their current or future needs.
Intuitive Software for Storage Management
With the constant evolution of storage platforms, EonStor GS adopted the all new EonOne and EonView software to assist customers in improving storage and service efficiency for increased productivity.
EonOne provides an intuitive interface for IT staff. It allows centralized management of multiple systems, monitoring of performance and capacity usage, and completion of all related system configuration.
EonView is a client-based utility for general users with Windows and macOS platforms. It simplifies the complexities of storage system settings, such as user accounts and storage quota for easy file sharing.
EonOne Interface
Modular Design
From power supplies, fans, controllers, to host boards, all Infortrend products adopt modular designs to lower maintenance complexity and provide fast, precise technical support and RMA services, so that your storage system is free from any down time to maintain non-stop services and increase productivity and competitiveness.
Success Stories
"Thanks to Infortrend's robust and reliable EonStor GS 3060R series unified storage system, now we have high performance and capacity in a smaller rack space,"
said Cem GÜMRÜKÇÜ, Broadcasting Systems Manager, Ciner Media Group.
Get Started
Make an inquiry to Infortrend sales team for more information.