High Performance Computing (HPC)
Due to the rise of Industrial IoT and AI, size and amount of data that organizations have to deal with are dramatically increasing. Hence, there appears a need for high performance computing (HPC) to process, store, and perform complex calculations of massive amounts of data at very high speeds for real-time data analytics and strategy decision making. HPC has been a helpful tool for each industry: from the geophysical prospecting for finding the drilling spots for oil and gas companies, weather analytics and genetic analysis, to school and government high-performance research laboratories. In recent years, thanks to rapid technological advancements, the HPC industry has faster analyzing processes and more precise results, revolutionary impacting the world.
However, faster and more precise analyzation requires storage to support more performance and capacity for handling the frequent data access requests from multiple analyzing servers and storing rapidly accumulated analyzed data. Traditional storage is not able to satisfy these kinds of exponentially increasing requirements.
Infortrend offers the next-generation storage platform with easy deployment/management design to address the revolutionary demands of HPC. It features huge performance, capacity, and bandwidth for storing the explosive data amount and handling requests from multiple HPC analyzing servers.
---
Solution Overview
High Performance Computing, as the name of the application indicates, requires the storage system to provide enough performance for sustaining the intensive and diverse analyzing behaviors from multiple HPC servers. The capacity and scalability are also important concerns since raw data that haven't been analyzed becomes larger and there appears more researched/processed data after analyzing process is done. Overall data eventually reaches PB-level and requires great amount of storage capacity to archive it.
EonStor CS is a scale-out shared storage solution that allows enterprises to address the sheer volume of data via its scalable capacity and linear-increasing performance. Besides, the large capacity and performance capabilities are built up under the single namespace architecture, allowing multiple HPC servers analyze, share the analyzed data with each other under the same file path, and fulfill the realistic analyzing.
An HPC application acts as long-period, non-stoppable analyzing behaviors from multiple servers. If any part of storage system fails, the whole analyzing process goes down and causes delays in business services.
By including multi-layer data protection from hard disks and node failures, the EonStor CS high availability solution ensures that the analyzing processes are not interrupted.
As the scale of an HPC company/research institution grows, more performance and capacity from storage site are required for dealing with the increased amounts of analyzing processes and volume of analyzed data to backup. As previously mentioned, most of the time all the HPC servers will use the same file path to access data (which is "single namespace architecture"). The whole HPC center can be scaled at the degree of maximum scalability of the storage cluster; thus, to avoid application limitations, the storage must provide the long-term expansion solution.
With both scale-out and scale-up solution, EonStor CS provides a seamless scalable solution for helping to future-proof your investments.
HPC application's topology usually includes a large amount of storage nodes. In such a complex architecture, it's important to provide a simple way to build up/manage the whole storage cluster to lower the management burdens.
EonOne, Infortrend's web-based management software, allows administrators to easily deploy and manage EonStor CS cluster with user-friendly graphical interface and step-by-step setup wizard.
EonStor CS comprehensive solution is the optimal choice for various HPC industries, such as Oil and Gas, genetic analysis and laboratory analysis.
---
High Performance and High Capacity
EonStor CS is a scale-out NAS storage system. By adding more CS units (nodes), you get a high performance/capacity cluster system with up to 100+ GBps Read/Write speed for high performance analyzing applications, and more than 100PB of storage for archiving the analyzed data. The overall performance and capacity can be provided under the single namespace, which allows multiple HPC servers analyze and share the data under the same folder/path to reduce the data access complexity. It also supports Auto-balancing function that evenly distributes data across all nodes in the system. When a large number of users access data simultaneously, the system shares the workload through parallel processing, solving the problem of a single node performance limitation and effectively improving the access efficiency.
---
High Availability
With multi-layer data protection from hard disks and node failures, the high availability solution of EonStor CS ensures that the analyzing processes are not interrupted. If any of the elements fails, neither the data will be lost, nor the analyzing performance will be affected.
If a hard disk gets damaged, Infortrend's exclusive RAID technology ensures that the system runs normally at the same level of performance. In terms of node protection, Replica and Erasure Code protection functions help to avoid downtime from a single node of failure. If a node failure is detected, CS initiates self-healing function to recover the data from a faulty node.
---
High Scalability
EonStor CS supports two capacity expansion solutions: horizontal scalability (scale-out) and vertical scalability (scale-up). The scale-out expansion allows you to add more devices (up to 144 nodes) to increase both capacity and performance. The entire cluster performance can reach 100+ GBps (Read/Write) and more than 100PB capacity. The benefit of using scale-out is that you can increase both performance and capacity at the same time. EonStor CS also supports scale-up scalability, which allows you to add up to 120 disks to increase storage space.
Finally, adding the node (scale-out) and JBOD (scale-up) into cluster requires no down time to maintain the service availability.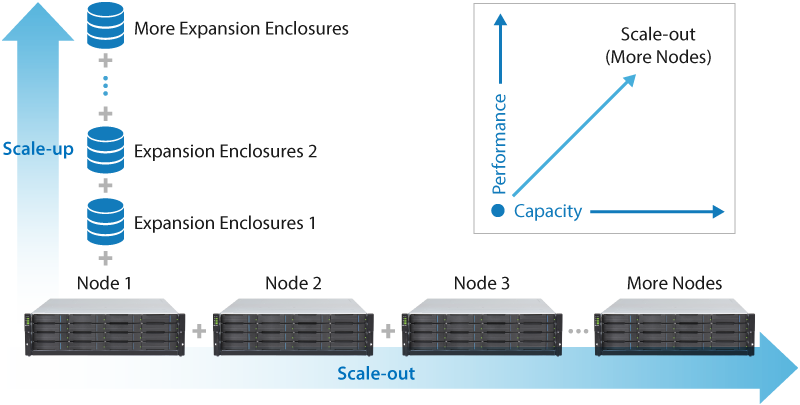 ---
Intuitive Management and Easy File Sharing
EonOne – An Intuitive Storage Management Software
EonOne is a storage management tool that complements well with EonStor CS. EonOne also offers a setup wizard to help user administrator easily set up storage and network. The user-friendly interface makes it easy to manage user access credentials and shared folders. Moreover, it's easy and fast to deploy the cluster of EonStor CS via EonOne: with the step-by-step Deployment Guideline, it only takes 5 minutes to finish the setup and 30 minutes for cluster-ready state.
Quick and Easy Deployment
(EonStor CS)
5min for cluster setup and 30min to complete initialization
Easy to Use
Web-based user-friendly interface and step-by-step setup wizard lower management complexities
---
Recommended Solution
Oil and Gas: Geological Structure Analysis
Before deploying a drilling platform, the analyzing process needs to be done to let the oil and gas companies know where to drill the oil and what the geological structure in a certain area looks like. The analyzation process starts with seismic wave data ingestion to storage from seismic exploration instruments. Then, multiple Seismic data analyzing servers analyze the raw seismic data, and after it, researchers use graphic workstations to build 3D geological structure models. The whole process includes many kinds of data access requirements: from large-size data throughput (tens of GB/s) to small block-size data (IOPs) Read and Write, as well as large capacity for storing PB-level analyzed data, which poses an immense challenge to storage.
In the following topology, the online storage cluster with EonStor CS 4024G models provides more than 100GB/s throughput with 144 nodes, 40Gb/s RDMA for node-to-node internal communication to eliminate the latency for internal data exchange, and RAID/Node protection to prevent performance impact from disk/node failure. Thanks to all the above advantages, the complex and intensive seismic data analyzing behaviors are fulfilled with guaranteed system stability.
After the analyzing process is finished, large amounts of data is kept in a backup (archiving) storage cluster via folder migration feature with EonStor CS 2060, 4U 60-bay, cost-efficient and high-density model. Each CS 2060 node can connect an additional 4U 60-bay JBOD; more than 100PB capacity can be provided via CS 2060 model.
Get Started
Make an inquiry to Infortrend sales team for more information.