EonServ

Family
Highly Integrated Storage Server
EonServ is an integrated storage server solution exclusively designed for enterprises, providing complete storage protection (RAID 1, 5, 6) with an easy-to-use management software (EonOne Lite) to effectively lower deployment costs and maintain complexity. Its hardware design features 2U 12-bay or 3U 16-bay form factors, with SAS support for JBOD storage expansion of up to 436 disks (EonServ 7000) and up to 316 disks (EonServ 5000). Furthermore, EonServ models adopt a cableless design to prevent system abnormalities caused by poor connection or cable wear to effectively lower maintenance costs, perfectly integrating storage and server into one device. The whole product line is fast, flexible, and reliable, so that you can find the perfect storage device according to your performance or budget needs.
Entry Level Application Server for Storage Purpose
The EonServ 5000 is an entry level enterprise solution specially designed for light workloads, as its hardware design adopts Intel E3 4-core processors to assist IT personnel in efficient management of all kinds of light workloads with support of PCI-E 3.0 x8 slot, USB 3.0 ports, and 1GbE ports. Furthermore, EonServ 5000 comes in 2U 12-bay or 3U 16-bay form factors, offering a maximum storage capacity of 3PB when combined with high density 4U 60-bay expansion enclosures. EonServ 5000 offers performance and massive expandability to meet the needs of future data growth for enterprises.
Enterprise Dual-processor Storage Server for Critical Applications
The EonServ 7000 is a high performance enterprise solution, with a hardware design that adopts two Intel E5 8-core processors to handle great amounts of I/O and file transfers even under high workloads. High speed high bandwidth SAS 12Gb/s technology is adopted for the drive-side, and with support for PCI-E 3.0 x8/x16, USB 3.0, 10GbE and 1GbE ports, it can completely meet all storage and data handling needs of large enterprises and SMBs, effectively increasing overall productivity. It also comes in 2U 12-bay or 3U 16-bay form factors, and offers a maximum storage capacity of 4PB when combined with high density 4U 60-bay expansion enclosures. As such, its exceptional performance, flexibility, and high expandability can easily run mainstream critical applications on the market.
SANWatch—an Easy-to-use Interface for Storage Management
With the constant evolution of storage platforms, EonServ assists customers improve storage and service efficiency by adopting the SANWatch management software. Its multi-feature interface design allows for central management of multiple systems for IT personnel to monitor performance and capacity usage, and complete all related system configurations.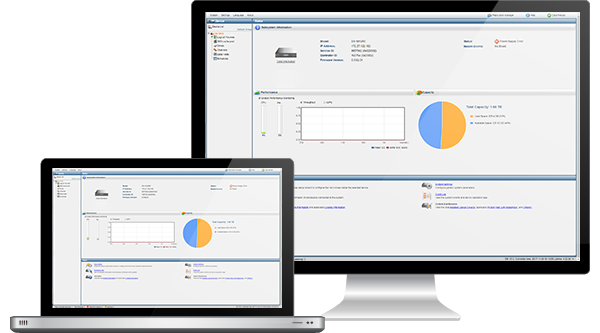 Modular Design
From power supplies, fans, to controller, all Infortrend products adopt modular designs to lower maintenance complexity and provide fast, precise technical support and RMA services.
Note:
Available on EonServ 5000 only
Optimized Server Storage Design
Integration of servers and storage devices is a major trend in the future for enterprise applications. Infortrend's EonServ comprehensive solutions can simultaneously manage servers and storage capacity, while incorporating storage protection (RAID1, RAID5, RAID6) and handling data of operating systems to efficiently lower deployment costs and maintenance complexity.