EonStor DS Family
Enterprise-class High Availability SAN Storage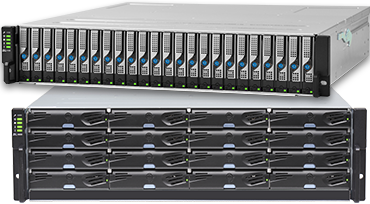 Overview
EonStor DS is a high availability SAN storage solution designed for enterprises. Its hardware design features multiple form factors, flexible host boards to choose from, and stable, reliable modular design with high expandability; as for software, it comes with complete data services and easy-to-use management interface. It is ideal for all SAN environments and enterprise applications (such as database, virtualization, video editing, backup, and surveillance). The whole product line is fast, flexible, and reliable, so that you can find the perfect storage device according to your performance or budget needs.
---
Products
U.2 NVMe Hybrid-Flash Solution for Business-Critical Applications
EonStor DS 4000U delivers extremely high performance for enterprises with exceptional SAN transmission performance. It supports U.2 NVMe SSD, and delivers better performance and cost-effectiveness. Besides, with the auto-tiering feature and HDD expansion enclosures, EonStor DS 4000U can provide high performance and capacity architecture, which is suitable for database and virtualization applications.
---
Powerful Solution for General Purposes
The EonStor DS 4000/3000 series are high performance solutions for enterprises to handle large amounts of I/O even under high workloads. They can perfectly meet the storage needs of SMBs to large enterprises and effectively boost overall productivity. Overall, its outstanding performance, flexibility, and high expandability can easily run mainstream critical applications on the market. The DS 4000 is perfect for the performance-conscious, while the DS 3000 is ideal for the budget-conscious applications as it can meet all general storage needs.
---
Cost-effective Solution
The EonStor DS 2000/1000 are entry-level enterprise solutions specially designed for SMBs and ROBOs (Remote Office Branch Office). They provide non-stop services and complete data backup features to allow IT personnel efficiently manage all kinds of light SAN workloads, all at an affordable price. The EonStor DS 2000/1000 come with exceptional expandability of more than 4PB storage capacity and modular host board slots, which can easily meet the needs of future data growth and architecture transformation. The DS 2000 is the best choice for enterprises that are concerned about IOPS, while the DS 1000 is ideal for the budget-conscious applications as it can meet all entry-level general storage needs.
---
Features
Excellent Performance Ready for Critical Applications
Fast enterprise server architectures are the trend of the future. The EonStor DS provide various high-speed protocols, such as 32Gb/s FC. The DS U.2 NVMe storage delivers up to 11GB/s read, 7.5GB/s write, and 1000K IOPS to handle different enterprise critical applications and IT deployment environments.
---
Amazing Capacity with Flexibility and Scalability
EonStor DS provides multiple specifications for expansion enclosures, such as 2U 12-bay, 2U 24-bay, 3U 16-bay, 4U 60-bay, etc. It can support up to 448 drives to provide PB-level capacity.
---
High Storage Efficiency
EonStor DS comes with offline deduplication and compression, which reduces the storage capacity required and thus saves storage costs.
You can also configure the DS as a hybrid storage appliance based on application requirements, and through automatic storage tiering and SSD cache, it helps you create a high-performance, large-capacity storage system at a lower cost:
Automatic storage tiering (Auto-tiering)

automatically moves frequently accessed data to high-performance SSDs and less-frequently accessed data to large-capacity HDDs, allowing you to fully utilize the advantages of different types of drives with ease.

SSD cache

uses a small number of SSDs on the DS as cache to accelerate the read performance. You can leverage this feature for random read-intensive applications, such as online transaction processing (OLTP).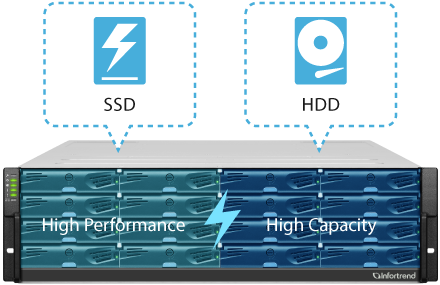 Hybrid storage to leverage advantages of SSD and HDD
---
Complete Data Protection
EonStor DS offers various data protection solutions for enterprise. With RAID function, the data is ensured to remain intact when the drive is damaged; in regards of backup, it supports snapshot and volume replication to achieve local and remote backup solutions.
---
Smart Management for SSD
With the built-in Intelligent algorithm, EonStor DS not only reduces the total number of writes to the SSD but also prevents multiple SSDs from being damaged at the same time, thus, extending the service life of the SSD. In addition, EonStor DS can monitor condition of the SSD in real time and its estimated remaining life, and issue a warning to notify the administrator to replace the SSD before it is about to be damaged.
Extend Lifespan
Prevent Simultaneous Failures
Alert Before SSD Fails
---
SANWatch — an Easy-to-use Interface for Storage Management
With the constant evolution of storage platforms, EonStor DS assists customers improve storage and service efficiency by adopting the SANWatch management software. Its multi-feature interface design allows central management of multiple systems for IT personnel to monitor performance and capacity usage, and complete all related system configurations.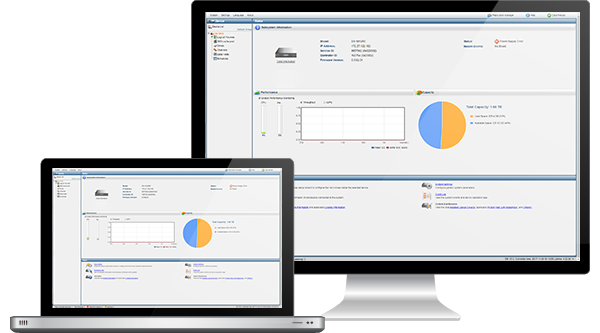 ---
Modular Design for High Reliability and Easy Maintenance
From power supplies, fans, controllers, to host boards, all Infortrend products adopt modular designs to lower maintenance complexity and provide fast, precise technical support and RMA services, so that your storage system is free from any down time to maintain non-stop services and increase productivity and competitiveness.
Supercharge Your Storage Solutions
Get in touch with our sales team and stay up-to-date with our new products and features!