EonStor GSe Family
Scale-out Unified Storage for SMB
Overview
Designed for SMBs, EonStor GSe is a unified storage system that integrates SAN, NAS, and cloud services. With the newly supported scale-out feature, it enables companies to flexibly expand performance and capacity.
EonStor GSe is equipped with a single controller for you to enjoy high performance and enterprise-grade features at an affordable price. On the hardware side, it provides a variety of form factors and a flexible choice of host boards, as well as stable and reliable design and high scalability. In terms of software, EonStor GSe offers the complete and value-added set of data services and an easy-to-use management interface.
EonStor GSe is suitable for common SMB-level applications, such as media editing, and office file sharing.
---
Products
High Performance Shared Storage Solution
The EonStor GSe 4000 Gen2 is a high-performance storage solution with powerful performance, flexibility, and high scalability to handle large amounts of file transfers even under high workloads. It is especially suitable for processing heavy workloads and editing ultra-high definition videos in 4K or above, including video rendering and multi-stream playback, which can effectively assists enterprises or video studios to improve overall productivity.
---
Cost-effective Shared Storage Solution
The EonStor GSe 3000 Gen2 and 2000 series are cost-effective shared storage solutions fit for SMB-general applications or media workstations.
The solutions support all-flash or hybrid configurations to provide performance suitable for collaborative editing on ultra-high definition media in 4K and above. Up to two sets of modular host boards are also offered to fulfill the requirements of numerous applications or infrastructure transformation, bringing higher deployment flexibility.
---
Entry-level Shared Storage Solution
The EonStor GSe 1000 is an entry-level storage solution for SMBs and ROBOs (remote office/branch office). It provides complete data storage, file sharing, and cloud integration, allowing IT personnel to efficiently manage all kinds of light SAN and NAS workloads, all at an affordable price. The EonStor GSe 1000 comes with exceptional expandability to more than 10PB storage capacity and one modular host board slot, which can easily meet the needs of future data growth and architecture transformation. As such, the GSe 1000 is the ideal choice for budget-conscious applications.
---
Features
High Performance Ready for Your Workloads
The EonStor GSe offers high performance with 600K IOPS and up to 7 GB/s read and 3.7 GB/s write throughput. Equipped with the high-speed transmission interfaces and protocols such as 40/ 25 GbE and 32 Gb/s FC, it can perfectly ensure a smooth 4K video editing with multi-playbacks, fast file-sharing, or SAN application in corporate environments.
---
Introducing Scale-out: Drive Full Performance and Capacity of Multiple GSe
Best for Expanding Storages for SMB or Studios! EonStor GSe now supports scale-out feature, so you can easily expand performance and capacity as your business grows.
In the scale-out architecture, GSe can linearly increase performance and capacity for both block-level and file-level. When one GSe is not able to provide enough performance or capacity, you can simply add another GSe appliance to the cluster – with a maximum of 4 GSe units.
In the scale-up architecture, each GSe supports expansion enclosures to add up to 896 hard drives for expanding storage capacity to more than 10PB.
---
Powerful but Easy-to-Use
Afraid of the complexity when expanding your storages? Don't worry, you can enjoy all the powerful features with GSe!
Single Namespace for user convenience: The scale-out function integrates multiple GSes into a single file system. When you add another GSe, users will still have one file system and they won't experience any change in the way of file accessing.
Auto-Balancing to reduce the burden of IT storage management: The Auto-Balancing function is an intelligent assistant for data migration. When your GSe are full, you can add 1 GSe and auto-balancing will help migrate the folders across all GSe appliances with balanced capacity and performance.
---
Drive Storage Efficiency: Get the Most from Your Budget
Want to spend your budget wisely? No problem, we make sure you optimize storage efficiency with GSe!
Inline compression and offline deduplication to reduce overall capacity needs. These technologies compress raw files in real-time and remove repeating data by schedule to minimize the storage capacity required, thus saving storage costs.
Tier configuration by mixing different GSe models to get the best performance and capacity combination. For example, you can form a cluster using the high-performance GSe 4000 and the cost-effective GSe 1000 to maintain a perfect balance between high-performance for data access and large-capacity for backup.
Automatic storage tiering (Auto-tiering) to leverage advantages of SSD and HDD. Using SSD on the GSe and NL-SAS/SATA HDD on expansion enclosures, you will get a more cost-effective storage system as you enjoy both the high performance of SSD and the large capacity of HDD.
SSD cache to accelerate file access performance. By configuring a small part of SSD space on the GSe as a cache, file operations—such as file listing, file renaming, and file creation—will become much smoother; meanwhile, the read/write performance will be enhanced for frequently accessed files.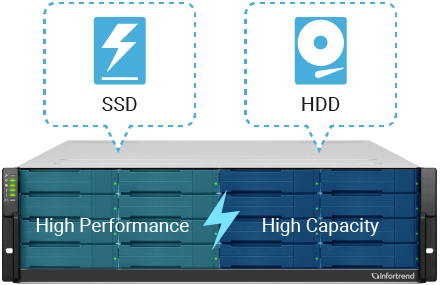 ---
Complete Data Protection for Every Company
Worrying about data loss? No need to panic, we've prepared the most popular and efficient backup and data protection techniques for you!
The RAID function ensures that data remains intact when a drive failure occurs.
3-2-1 backup rule provides a complete backup strategy that anyone can apply, which means you should have 3 copies of your data, saved on at least 2 types of storage media, with 1 copy located offsite. You can adopt the strategy by using a) snapshot for local replication backup, b) Rsync for remote backup, and c) EonCloud to perform the cloud backup.
Immutable object storage, or WORM (write once read many), is one crucial feature to fight against ransomware attacks. It makes sure the data is locked within a specified retention period so that it cannot be modified, deleted, overwritten, or even encrypted by ransomware.
MFA (multi-factor authentication) provides an extra layer of security for administrative account access. When logging in to the management interface, an additional one-time password is required, which greatly reduces the risk of malicious attacks following password theft.
---
Cloud Integrated Solution
The integration of enterprise data and cloud is one of the future trends, and EonStor GSe can help you move files or block-level data to public or private clouds according to your needs. In addition to low-cost access to data that is not frequently used, it can also be used to back up data in the cloud space for establishing a remote backup structure and creating a highly available data center.
---
Intuitive and Centralized Software for Everyone
EonStor GSe adopted the all new EonOne and EonView software to assist customers in improving storage and service efficiency for increased productivity.
EonOne provides an intuitive interface for IT staff. It allows centralized management of multiple systems, monitoring of performance and capacity usage, and completion of all related system configurations.
EonView is a client-based utility for general users with Windows and macOS platforms. It simplifies the complexities of storage system settings, such as user accounts and storage quota for easy file sharing.
EonOne Interface
---
Modular Design for Easy Maintenance
From power supplies, fans, controller, to host boards, all Infortrend products adopt modular designs to lower maintenance complexity and provide fast, precise technical support and RMA services.
---
Use Cases
Media & Entertainment
Suitable for post-production studios within 10 workstations
High performance for smooth 4K video editing and rendering with 20 video streams
Integrated with post-production software, such as DaVinci Resolve, Adobe Premiere Pro, and Apple Final Cut Pro
---
File Sharing
Suitable for SMB companies with constant file-sharing
Maintains a single file system when expanding the storage so that it remains easy-to-use
Complete data protection for companies
Support file level protocols, including CIFS, NFS, AFP, and FTP
Get Started
Make an inquiry to Infortrend sales team for more information.