EonStor
GSa Family
Wide-ranging All Flash Array Choices for Modernized Data Center
Infortrend GSa all flash unified storage is designed to deliver optimal SSD performance with low latency, extend SSD lifespan, and wider product selections in terms of performance, connectivity, and form factor choices to meet the demanding requirements in a modern data center. GSa can handle large amounts of I/O, high amount of file transfer under high workloads, and can reach more than 700K IOPS for random reads with a response time of less than 0.5 milliseconds.
Enterprise All Flash Array Storage
GSa 2000 and 3000 series are the cost-performance solutions that provide high acceleration of enterprise applications such as database, virtualization, VDI, Microsoft Exchange, and media/entertainment-related applications. GSa 5000 series offers the highest performance all-flash technology designed for extreme I/O workloads.
Powerful Unified Storage Performance and Reliability
GSa is a unified storage system that supports both block and file-level applications, and incorporates Infortrend's unique block-device design and highly reliable RAID technology to deliver powerful performance and reliability.
Optimized SSD Performance with Low Latency
GSa family provides optimal SSD performance with low latency and extensive SSD lifespan, and can handle more than 700K IOPS for random reads with a response time of less than 0.5 milliseconds. It is ideal for demanding enterprise workloads such as database, virtualization, VDI, Microsoft Exchange, and media/ entertainment-related applications.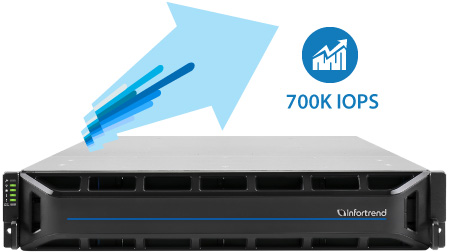 High Availability with Redundancy
GSa line of all-flash arrays are designed with no single point of failure technology (redundant controller hardware) for redundancy and include our enhanced firmware with Intelligent Drive Recovery (IDR) and SSD lifespan monitoring features to ensure data availability. It also supports SAS to SATA bridge board for compatibility with cost-effective SATA SSDs.
EonOne - an Easy-to-use Interface for Storage Management
EonOne offers easy-to-use and web-based management interface that can be operated remotely via web browser, reducing the storage management complexity. Its intuitive interface design allows centralized management of multiple systems, monitoring of performance and capacity usage, and completion of all system-related configurations.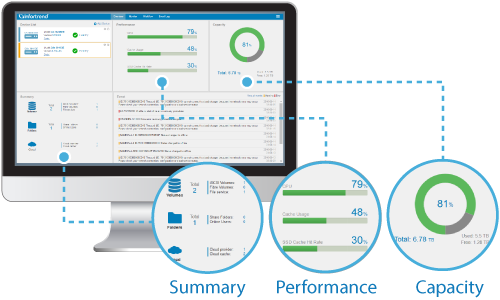 Cloud Ready for Future-Proof Expansion
Anticipating the exponential growth of enterprise data, GSa offers optional cloud gateway that connects to cloud services such as Amazon S3, Microsoft Azure, Openstack Swift, and Alibaba Cloud for future-proof support of capacity expansion or remote-backup to the cloud.
Rich Selections of Host Interfaces
GSa offers versatile host interfaces: FC 16Gb/s, FC 8Gb/s, iSCSI 40Gb/s, iSCSI 10Gb/s, iSCSI 1Gb/s, InfiniBand 56Gb/s and SAS 12Gb/s. Enterprises can choose according to their needs. Furthermore, 40GbE/10GbE/1GbE ports are also offered for fast and reliable data sharing and transfer in network environments.
Cache Backup Module (CBM) to Prevent Data Loss
When unexpected power failures occur, Infortrend CBM will kick-in and use the backup power to store cache data to flash module and prevent potential data loss. Once external power is back on, the data in the flash module will then be restored to drives. CBM can effectively reduce data loss.
Modular Design to Lower Maintenance Complexity
GSa family offers the modular design of the power supplies, fans, controllers, host boards, and other storage components to lower maintenance complexity. If any module fails, Enterprises can simply replace with a functional one. Coupled with quick technical support and RMA services, your storage system is well-protected from any down time, resulting in better productivity and reliability.