EonStor GSi Family
Integrated with GPU, Linux Operating System and Unified Storage
Overview
EonStor GSi is an integrated computing storage system for AI applications that supports both computing and storage services. It is equipped with the Linux operating system, allowing users to install AI-related applications on the Docker platform.
---
Products
Rackmount Solutions
GSi 5000 is a rackmount mid-level solution that can meet advanced AI computing and storage requirements. For example, it can be installed with a media asset management system from the Docker platform. In addition to meeting the requirement of large-capacity media asset storing, various AI-related services can also be used by media editors, e.g., content review, celebrity recognition, object, scene, and activity detection when searching for media files, which significantly improves work efficiency.
---
Features
All-in-One Design
With a single system integrating computing and storage services, users do not need to separately install computing hosts and storage arrays, which simplifies the installation process and reduces configuration costs.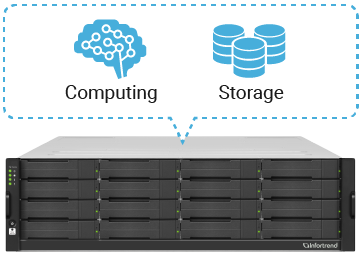 ---
Flexible Configuration of Computing System
GSi product line has desktop and rackmount models. It satisfies the needs of various AI applications, so you can select a suitable solution based on application performance, specifications, the number of processors and graphics cards, and budget considerations.
---
Storage Services for AI Applications
GSi storage system provides high storage performance to quickly read data from the storage pool and import it into the computing system. Storage capacity can be expanded to up to 7PB by connecting expansion enclosures with up to 436 hard drives. To avoid data loss caused by hard disk failures, GSi can be configured with varied RAID protection levels. You can also leverage its immutable object storage and WORM (write once read many) features to safeguard your data from ransomware attacks, and use multi-factor authentication (MFA) to reduce the chances of malicious attacks due to password theft.
High Performance
High Capacity
Complete Data Protection
---
Cableless Modular Design
To reduce management complexities, all hardware components have cableless and modular design, helping to quickly and easily replace damaged components. The components are hot-swappable, so users do not need to stop the system when replacing them. GSi also provides redundant power supply and fan, eliminating the risk of service interruption caused by damage of a single component.
---
Easy Management
EonOne is a dedicated graphical management interface for GSi. With just a few clicks, system administrators can install and manage AI applications on Docker, as well as set storage system configurations and monitor system status and storage usage in real time.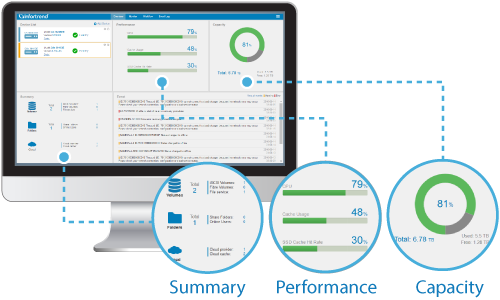 Supercharge Your Storage Solutions
Get in touch with our sales team and stay up-to-date with our new products and features!