EonStor
GSc Family
Hybrid Cloud Storage Appliances Designed to Streamline Enterprise Cloud Deployment and Access
EonStor GSc family of hybrid cloud storage appliances are designed for businesses to streamline cloud deployment and access by moving and managing data between local and cloud in a transparent manner. Integrated with cloud storage gateway, GSc offers differentiated features in cloud cache, cloud backup, and cloud tiering. GSc family inherited company's GS line of superior unified storage performance.
Special Offer: Buy Now and Get Software License for Free
Now through to the end of 2021, you can purchase any model from EonStor GSc family and get software licenses for free or with 50% discount with exciting features. You will enjoy higher storage efficiency, better data protection, and increased flexibility!
Product Highlights
Easy Cloud Integration with the Existing IT Environment and Applications
GSc provides enterprise IT applications with general file or block-level as well as the local and cloud data through the common protocols (e.g., NFS/CIFS/iSCSI/Fibre). Therefore, companies do not need to re-engineer existing IT systems or applications in order to connect to the cloud, greatly reduced the difficulty of cloud integration.
Faster Cloud Data Access
Since the cloud data is accessed through the Internet, the access speed is slow and latency is high, resulting in bad user experience. GSc can designate the local storage to act as cloud cache by placing frequently accessed data on the local side, allowing most of data access to be as fast as local.
Flexible Cache Policy Improves the Efficiency of Data Access
With more than 9 different types of cache policies, IT managers can set up the cache according to their needs. The default cache policy keeps the download data in the local cache, and if local space is insufficient the system will then delete less frequently accessed files. The high priority policy allows the data to be continuously retained in the local cache folder, such as frequently used work files. Uncacheable for write policy allows users to store data directly to the cloud instead of storing it in local cache, such as data backup files. The settings of these cache policies allow users to optimize use of local cache space and improve the efficiency of data access.
Secure and Protect Enterprise Data
Preventing data breach has always been the biggest concern for enterprises to put any data on the cloud. To keep data safe and secure, GSc encrypts data on the local side first before transmitting it to a public cloud. In addition, all transmissions to and from the cloud are SSL/TLS encrypted to ensure additional data security.
Cost-Saving on Cloud Storage and Network Bandwidth
The cost of cloud storage is based on the size of the data space in the cloud and the amount of bandwidth used. GSc with built-in data compression and deduplication features can effectively reduce the amount of cloud data space used, resulting in cost-savings for both network bandwidth and cloud storage.
Scalable Data Support
One major benefit of cloud storage is its flexible expandability. EonCloud Gateway supports PB level cloud storage capacity and billions of cloud files, completely meeting the massive data needs on the cloud of enterprises.
Access Control List (ACL) Synchronization via Cloud to Multiple Local Storages
When enterprise share files via the cloud to multiple local storages, maintaining access control of files have always been a challenging issue since cloud doesn't really have a file system that supports ACL and making IT management difficult. GSc provides an access control list synchronization mechanism under a multiple storage environment via cloud, thus resolving this challenging issue.
Cloud File Sharing
GSc provides high compatibility with existing IT environment by allowing Enterprises to access cloud data using the common protocols such as CIFS/NFS. Enterprises can adjust storage resources between local and cloud dynamically to achieve optimal balance between cost and benefit.
EonOne—an Easy-to-Use Interface for Storage Management
With the constant evolution of storage platforms, the EonStor GSc adopted the all new EonOne management software to assist customers improve storage and service efficiency to increase productivity. Its intuitive interface and work flow design allows for centralized management of multiple systems, monitoring of performance and capacity usage, and completion of all related system configurations.
App Store on Docker
A Software Platform Allows User to Run and Manage Applications
The App Store features templates for various Docker container images—artificial intelligence (AI), Internet of things (IoT), video surveillance, and much more. A template specifies a Docker container image along with preset parameters of the execution environment. By using a template, you can quickly deploy and run a Docker container with little fuss.
Hybrid Storage Arrays
From data growth, management of numerous hardware devices, to annual budget cuts, IT personnel need to face ever-changing challenges every day. The EonStor GSc can be set up as a hybrid cloud storage according to their needs, and combined with either SSD Cache or Automated Storage Tiering, it can utilize the high performance of SSDs and the large capacity of HDDs, while automatically moving frequently accessed data to SSDs to achieve simplified management and proper use of resources.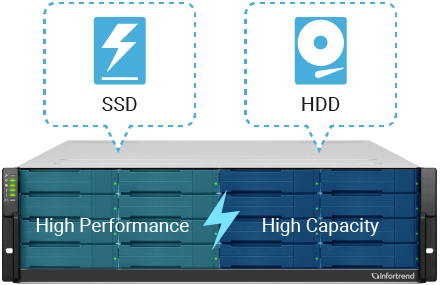 Rich Host Interface in GSc Family
As there is a wide range of enterprise applications, the required communication interface for each application may differ. Infortrend provides rich communication interfaces in SAN environments, including 8Gb/s FC, 16Gb/s FC, 32Gb/s FC, 1Gb/s iSCSI, 10Gb/s iSCSI, 40Gb/s iSCSI and 12Gb/s SAS to allow complete compatibility with all applications. Furthermore, 1GbE, 10GbE, 25GbE and 40GbE ports are also offered in network environments to provide fast and reliable data sharing and data transfer quality.
Multiple Form Factors to Choose From
Infortrend provides multiple specifications for storage systems and expansion enclosures such as 2U 12-bay, 2U 24-bay, 3U 16-bay, 4U 24-bay, etc. even in the same series, so that enterprises can choose what's perfect for them according to their current or future needs.
Modular Design
From power supplies, fans, controllers, to host boards, all Infortrend products adopt modular designs to lower maintenance complexity and provide fast, precise technical support and RMA services, so that your storage system is free from any down time to maintain non-stop services and increase productivity and competitiveness.
Use Case
Pharmaceutical Industry
Clinical-trial data is paramount for drug development and must be backed up and protected against any potential mishaps. Therefore, a Hybrid Cloud Storage Solution that includes both local and remote backup is needed to guarantee 100% data protection.
For the local backup, GSc offers high-IOPs performance to achieve low-latency real-time backup of the application data. For remote backup, GSc can integrate with the on premise DPM (Data Protection Manager) server using common protocols and serve as cloud cache to buffer these large backup files. These backup files can then securely transmit to the cloud service during off-peak hours.
Furthermore, GSc supports snapshot when unexpected error occurs, the enterprise can roll back the snapshot from the cloud to achieve disaster recovery solution. Therefore, in the pharmaceutical industry the GSc not only can play the backup role but a disaster recovery solution.
Supercharge Your Storage Solutions
Get in touch with our sales team and stay up-to-date with our new products and features!